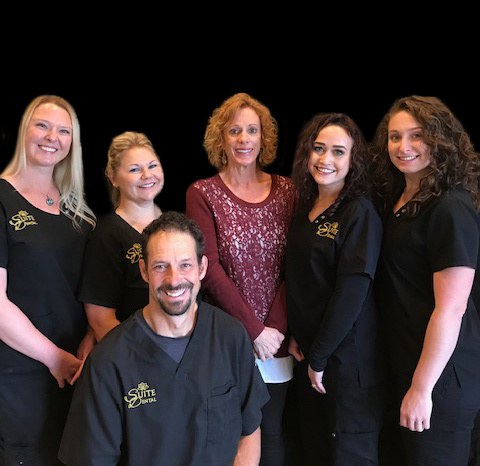 Meet Our Team
Our kind and friendly dental team at Suite Dental is dedicated to you and your smile, and we do all we can to make sure you have a positive and successful dental experience at our office. In fact, we provide a dental office that feels like a little home. We also provide headphones, blankets, massage chairs, warm facial towels, snacks, complimentary nitrous oxide, and more. We like to roll the red carpet out for you in any way we can. You are our priority, and and you will notice this when you walk through your new dental home doors. To learn more about our dental team in Bozeman, Montana, please read our biographies or call our office at 406-602-4100!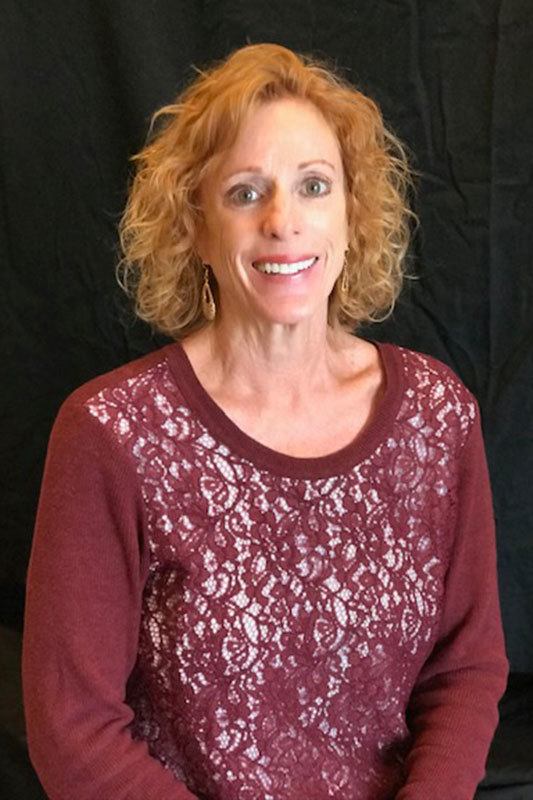 Michele
I moved to Bozeman three years ago after visiting my daughter who has lived here for the last eight years; my husband and I decided that Montana was our happy place. After leaving Virginia, I retired from the Financial Services industry after 30 years and a year and a half ago decided to join the Suite Dental team to learn more about dentistry. I love working in the dental field because every day is different and I continually have the ability to work with and serve the people of my community. More importantly, I love working with Dr. Spencer because he has taught me so much about the dental industry and I am intrigued with the amount of time he spends with each patient and the care he provides. In my free time, you will almost always find me in the outdoors with my husband, friends, and/or dogs either hiking, kayaking, snow shoeing, or fly fishing.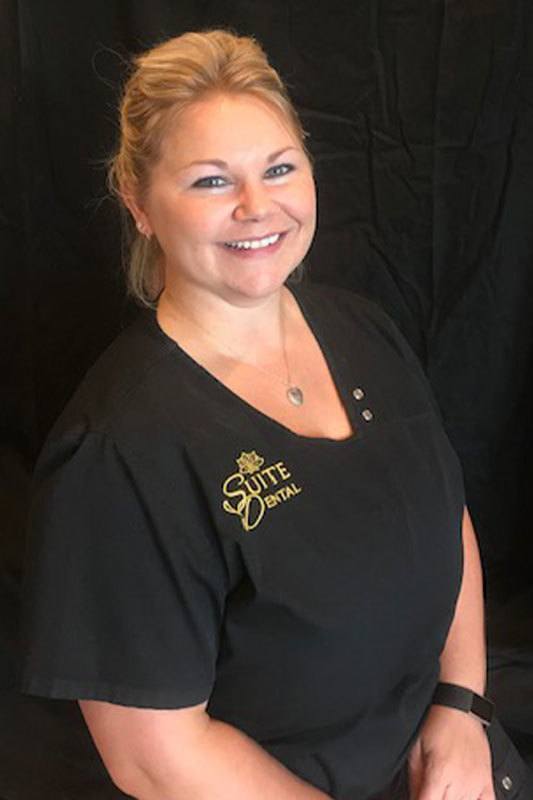 Jennifer
Born in Colorado but raised in Manhattan, Montana, I consider myself a Montana native. Manhattan is where I grew up and graduated from high school in 2005, and from there, I went on to attend college at Eastern Oregon University in La Grande, Oregon, where I completed my prerequisites for dental hygiene school. I was accepted into the dental hygiene program and graduated from OIT/ODS College of Dental Sciences in 2010 with both my Associate of Applied Science in dental hygiene and my Bachelor of Science in dental hygiene. I then decided to make my way up north and have spent the last nine years in Homer, Alaska, working for a community health center, which is where I initially met and had the pleasure of working with Dr. Spencer and also working in private practice. After working with Dr. Spencer for a brief amount of time in Alaska, I knew that I wanted our career paths to cross again and am so happy to have been given the chance to make that a reality and join the Suite Dental team. Dr. Spencer is one of the best dentists I've ever worked with, and I am constantly reminded on a daily basis how wonderful, compassionate and caring he is to our patients and staff. I'm so happy to be a part of a team that truly puts patients and their needs first and where I can help make a difference one smile at a time. In my free time, I love spending time with my family, being in the outdoors and reading books.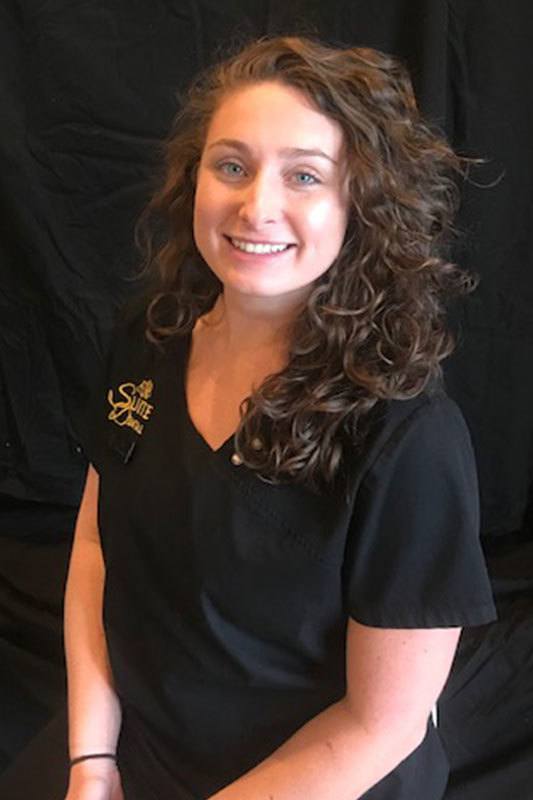 Elisa
I was born and raised in Oklahoma with six brothers and one sister. After getting married, my husband and I decided to move to Bozeman for him to go to school at MSU. It was here in Bozeman that I made a really close friend who helped me begin my journey in dentistry. I now have had the opportunity to work with Dr. Spencer and the Suite Dental team since April 2019. I love working at Suite Dental because of the amazing team I get to work with. They all have such big hearts and genuinely love helping people. I love working for Dr. Spencer because he is so caring and obviously loves people and helping them better their dental health. In my free time, I love being in the outdoors, riding horses, and spending time with friends and family.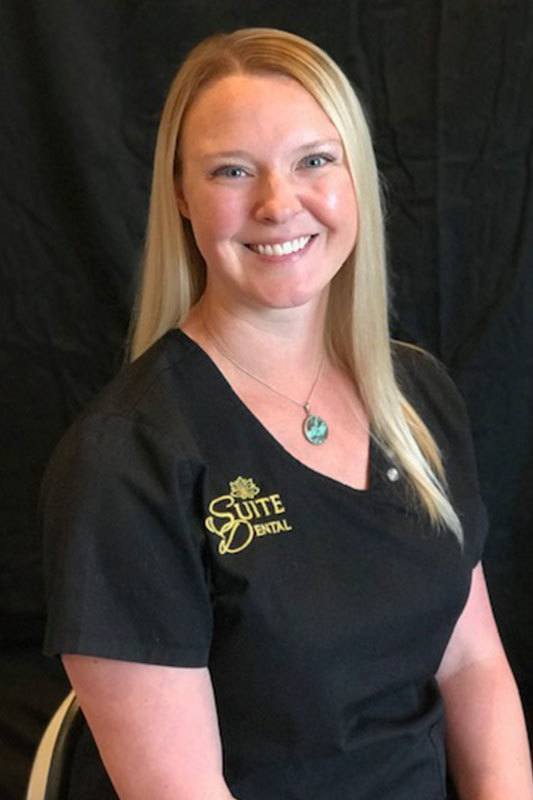 Valerie
Hi, my name is Val, and I'm thrilled to be a part of this amazing team! With 15 years as a dental assistant, I have experience from orthodontics to oral surgery and everything in between. I have what you'd call "a servant's heart" and greatly enjoy helping others. Dr. Spencer's passion for health-centered dentistry and his genuine care for not only patients but his employees makes me proud to be a part of Suite Dental. I was born and raised in Kodiak, Alaska, and grew up in a commercial fishing family. I started my journey in dentistry in Anchorage and most recently helped to build a start-up dental practice from the ground up in Homer, Alaska. My husband and I have two beautiful children, and we love getting outdoors and our family movie nights. Moving to the Bozeman area brought career growth and fun adventure for all of us. I hope to see you soon in our office to help in sharing a great dental experience with you!